RIDE2RAIL demo in Helsinki draws to a close
27/10/2022
After its first demo in Athens, the RIDE2RAIL team has now completed its second demo! From 3 October to 16 October, a demo was held in Helsinki to test the Travel Companion and Driver Companion apps in the Helsinki Metropolitan Area.
The Helsinki demo was the second demonstration executed by the RIDE2RAIL Helsinki team in the project. In the autumn of 2021, the first part of the demonstration was carried out when an automated shuttle bus was piloted in the streets of Helsinki with over a thousand onboard passengers.
The second part of the Helsinki demo was focused on testing a new journey planner Travel Companion and ridesharing platform Driver Companion developed in the Shift2Rail ecosystem and RIDE2RAIL project. Led by Forum Virium Helsinki and Metropolia University of Applied Sciences, it aimed at testing ridesharing as an addition to the public transportation services in Helsinki.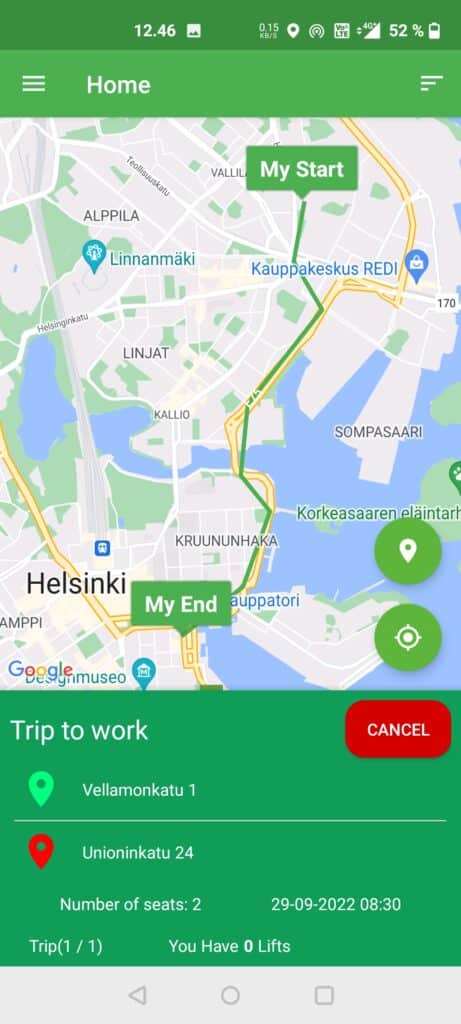 In total, 20 participants joined in the demo – they used the Travel Companion and Driver Companion app when travelling, after which they were asked to provide feedback on the app. The results will be analysed at a later stage, but first feedback proved that there are challenges in introducing new mobility habits such as ridesharing in a city with extensive public transportation networks. Emphasis is needed on developing a smooth user experience and having intuitive and reliable applications that provide added value to travelers in the city.